I am a millenial. I'm not sure about you, but when I hear that word it immediately triggers two thoughts: 1. tight budget 2. creative-as-f*ck. The thing is, we millenials need to be creative. We're embracing adulthood at a time like none other; automation has taken loads of jobs away from the market and the real kicker is being forced to "come-of-age" in the aftermath of a housing crisis that made home-ownership a distant dream for the unfortunate majority of us. So, to get by, we've learned some pretty damn innovative ways to get not just what we need, but what we want. Because, for the love of god, there is no damn reason you need to be putting your savings towards that Pottery Barn couch, or to spend your weekends trying to read through the cryptic shit that is an Ikea furniture assembly manual.
When I moved into my first home five years ago, I was dead-set on finally laying my college dorm furniture down to rest.... eternally. But I also had about 500 expendable dollars in my bank account, $35,000 in student loan debt, and a kid on the way. So, I had to light a little fire on that right side of my brain. With $500 in my pocket, I dumped my garbage furniture on the curb and designed and decorated a new dining from scratch. Here's how I did it:
I first spent a few hours scouring Ebay for the cheapest dining room chairs I could find. They had to be faux bamboo, they had to be cheap and if they could be horribly dated, too, I figured I'd save myself a few extra bucks. When I found those ugly bastards, I just knew they were the ones. For $175, I had four mid-century fixer-uppers delivered to my front door the next week. 
With an additional $45 and a half-day's work, I bought a can of Benjamin Moore's Witching Hour paint and some fabric on sale and went at it (with, admittedly, a LOT of help from the hubbie):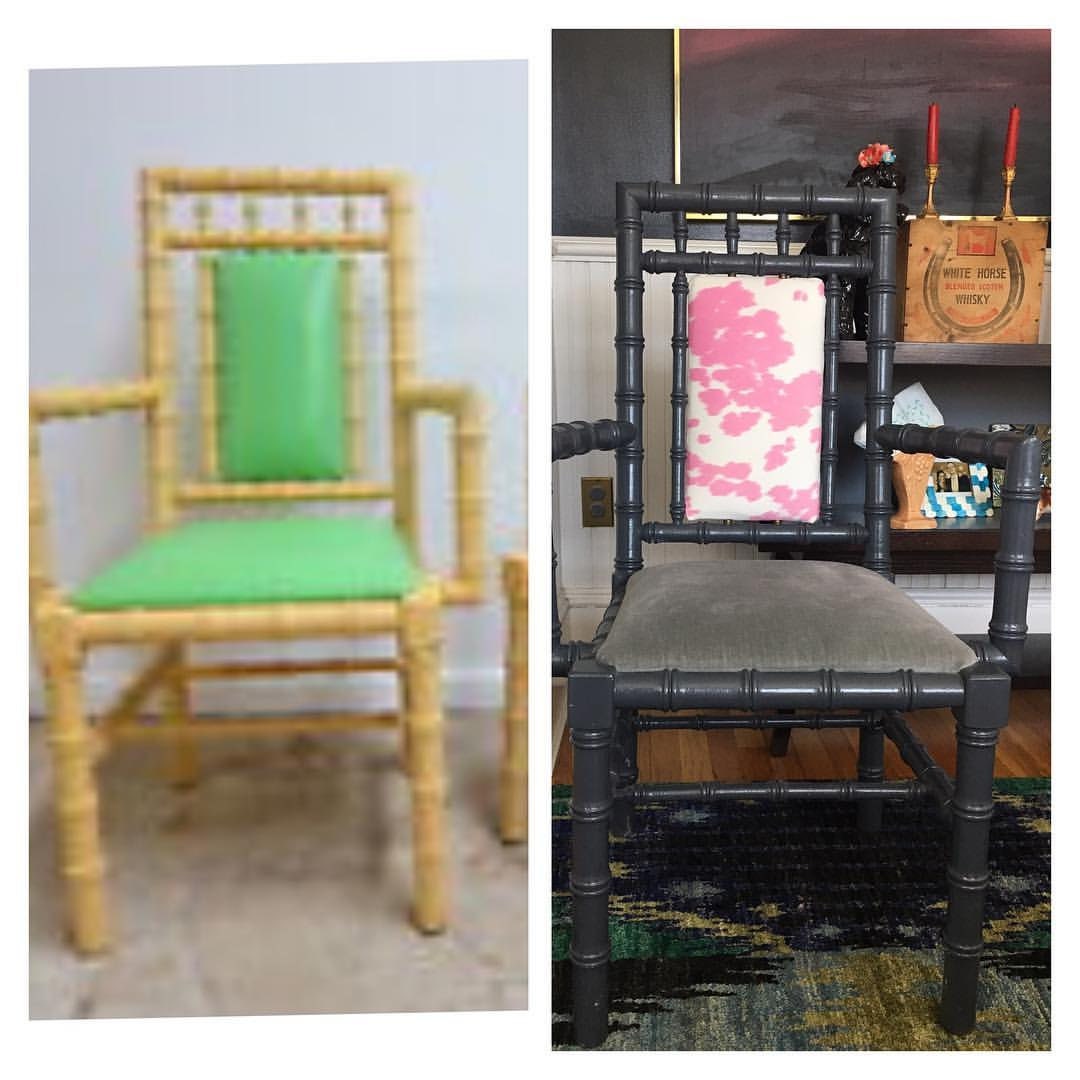 Next stop was Goodwill. It was there that I found one of those truly heinous brass chandeliers that were ubiquitous in the 1980s. It was $2. I grabbed a can of spray paint, a roll of hemp cord, and six circles from Michales (total: $20), and for a total of $22 I created a pretty bad-ass chandelier: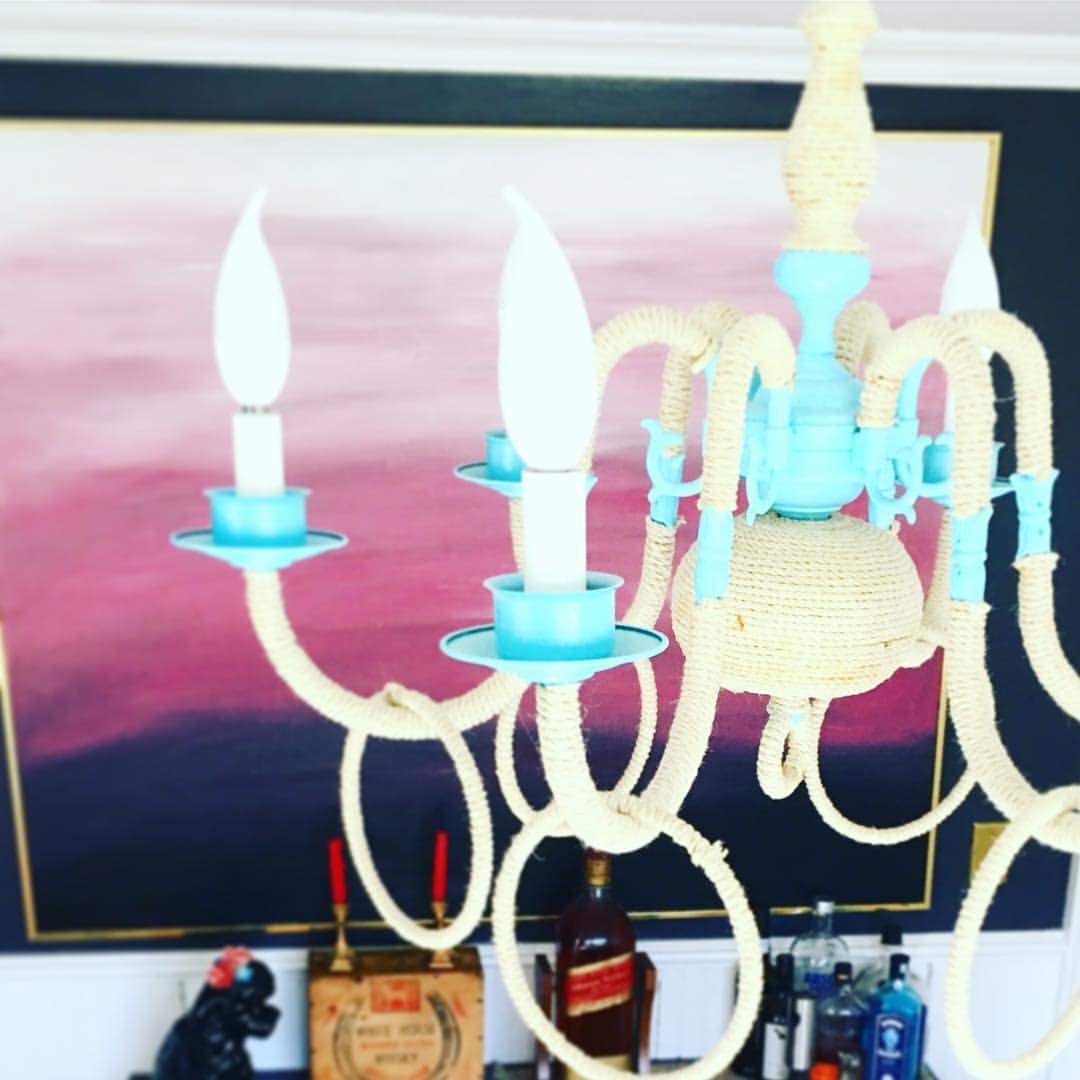 For the walls, I decided to use the rest of that Witching Hour can to create a cohesive palette to tie the room together. But having just paint on your walls is like having an egg and no sperm- all the while you're trying to make a baby. I found an enormous canvas painting in my parents basement, threw some gesso on that puppy and went to work (PICTURED ABOVE. cost: $25 of oil paints + $10 gesso). Next I took a photograph from my Instagram account and followed through on an offer that Snapfish had been bombarding my email account with: a blown-up version of the photograph for a mere $55. I speckled the rest of the room with some great estate sale finds that totaled $10: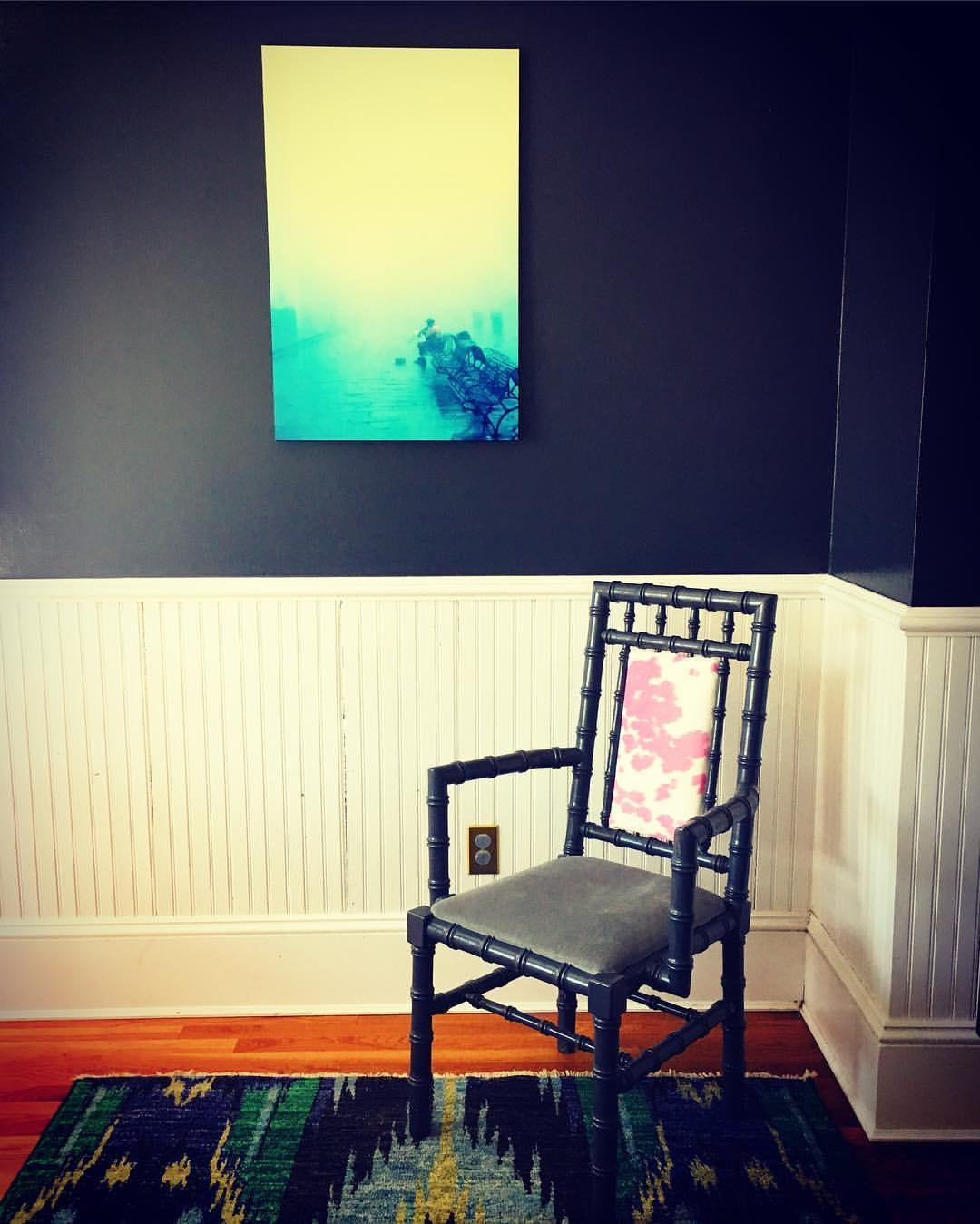 I was lucky enough to inherit a fantastic antique table, but there was a problem: the cherry wood clashed with my charcoal chairs. Really, this was a cause that a few vintage tablecloths could champion. And, so, for under budget (under $500) - I was able to create a room that I was excited about eating in. And the best part was that I was able to do it without ONE trip to Ikea (well...maybe my favorite part about it was that no part of it looked like it was mail-ordered out of a catalogue).